Solar Is big, but are the jobs growing?
In the past, solar jobs in Australia have risen and fallen on the "solarcoaster". However, the solar industry is on steady legs now that solar is the cheapest form of electricity. Though the Covid 19- Pandemic has hampered many things, it's had a strange effect on solar. Long lockdowns in Australia are making many people work from home. This increase in daytime electricity usage is causing many to install solar on their homes.
"Despite the COVID-19 pandemic, the small-scale solar sector showed no sign of slowing down in 2020 as more than 3 GW of new capacity was added to Australian rooftops."

Clean Energy Council Annual Report
As solar panels and equipment continue to get cheaper, we expect uptake to continue rising. According to the Australian PV Institute, solar installations of all sizes are growing .
"The number of monthly installations stabilised through 2014 and 2015, and now appears to be trending slightly upwards in the residential sector, with an increase in the number of larger (commercial and utility-scale) PV systems keeping overall installed capacity high."

AVPI
CEC Accreditation Growth
The Accreditation scheme ensures solar designers and installers work with the highest quality. In their 2021 Report, the Clean Energy Council states that the accreditation program is also surging:
"The program has seen remarkable growth alongside the solar industry, with the number of accredited installers surging by more than 3000 over the past five years"

Clean Energy Council Annual Report
---
Residential Solar Jobs in Australia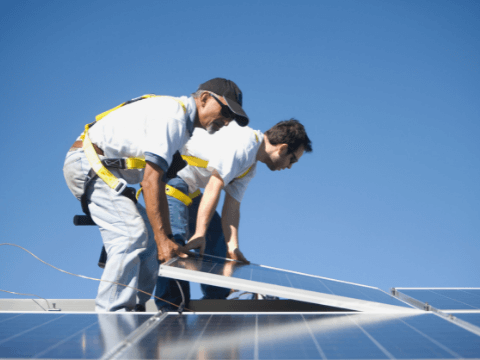 "Roof-top solar PV systems remained the largest full-time equivalent (FTE) employer among renewable energy types, comprising 13,070 FTE jobs or nearly 50% of total FTE employment related to renewable energy in 2018-19. "
Solar Installers
Roof-top or residential solar installation jobs are the backbone of the industry. Electricians generally enter the solar industry by expanding their existing lighting, HVAC or air conditioning business. Grid Connected Design & Install PV Training is the first step into the industry for electricians. Further training leads to battery design & installation training. Currently, demand for home- battery storage is stable. When battery costs continue to drop, expect their usage to skyrocket.
Residential solar installers often do the design as well. A small solar company usually has a handful of pre-designed offerings for customers to choose. Complex roofs and heavy loads will require bespoke designs.
Solar Installation Labour / Trade Assistant
You don't have to be an electrician to help install solar systems. Sometimes apprentices and other workers will help an accredited solar installer. Labourers can take the bulk of the work, moving heavy solar panels onto a roof and mounting inverters. Any electrical work must only be done by a qualified electrician, however.
Solar Franchise Opportunities
Those wanting a turn-key business with a recognised name can start with a franchise. Buy-in costs can start around $10,000. This is an option for non-electricians wanting to start a solar business easily.
Notable franchise opportunities include:
Residential Solar Sales
Solar sales is a an exciting industry. Solar retailers are always looking for salespeople willing to hustle and earn commission. Some sales people work door-door, and others may work from home, generating leads. Salespeople from other industries should learn the essentials of solar sales first.
Residential Solar Inspections & Repair
Highly Experienced solar installers can also branch into performing inspections. As standards and components changed over the years, the Clean Energy Regulator ensures compliance and safety by having random solar systems inspected. This ensures that Solar Technology Credits are being awarded to quality installations.
Some of the most common issues are fires starting in rooftop DC isolators. Older switches which were installed before current rules may have been baking in the sun for years. As plastic breaks down from extreme UV exposure, it's water tightness can wane, causing issues. In addition, there are also damaged panels from hail, and sports balls which will require replacement.
---
Commercial Solar Jobs in Australia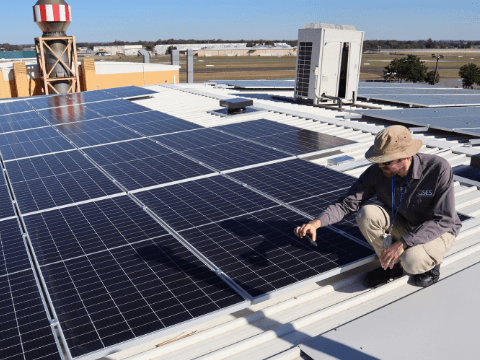 Commercial Scale is generally thought of as 30kW to 1 MW systems. However, some shopping centres and hospitals are now installing rooftop systems greater than 1MW! With these larger systems, the design and installation is much more complex.
Commercial Solar Companies employ more people with varied roles than residential solar companies. Procurement, project management, Information Technology and design engineers are essential roles.
Solar Installers
Commercial Solar Installers often have good experience in the residential sector first. They will need to understand more complex layouts, wiring and electrical safety requirements.
Solar Engineers
PV Engineers usually have a 4 year degree program in photovoltaic or renewable energy engineering. However, they may also have a background in electrical or mechanical engineering and take courses in renewable energy engineering. Engineers are able to gain CEC accreditation as Solar Designers. Although this group cannot do the installation, they can work in the background adjusting the optimum configuration of the system and sizing complex components such as protection relays.
Solar Engineers may design solar systems on SketchUp, AutoCAD and PVsyst software. In addition, they upskill with courses like power cable selection , fault current analysis and structural certifications.
Project Managers
Project Managers ensure the solar system gets installed smoothly. The grid connection applications and materials may have long lead times, so scheduling is important. They also monitor the installation and solve problems as they arise.
IT Personnel
Information Technology is very useful in the solar world, as there is a tremendous about of data involved. For example, modern solar inverters are internet connected, and output various levels of data. Getting all this data securely into a database for analysis is very useful for engineers.
---
Utility Scale Solar Jobs in Australia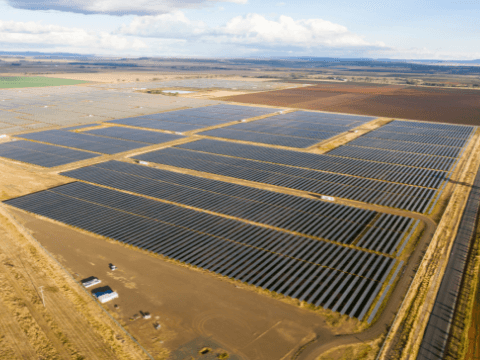 Utility scale solar refers to projects that typically produce at least 1 Megawatt of power. Thus, solar farms are the largest and most complex solar projects, often taking years to complete.
As the projects are very expensive, salaries are usually higher in utility scale than residential solar.
These projects require long term planning, financing and construction and operations teams at various stages. Work sites are often in remote areas with good sunlight and cheap land. Be prepared for long days, hot weather, dusty clothes and a good paycheck.
Project Managers
Project managers can work on any side of the project, but largely for an EPC Company. PM's work long hours keeping the project moving smoothly. Managers can work on the supplier side, ensuring materials are being shipped from the factory on time. They can also work on site managing the construction. A PM will have advanced understanding of all aspects of the solar farm construction process. Organization is a critical skill for this role. Utility Scale Solar Projects can take years, involve thousands of people and equipment from all over the globe.
Typical qualifications might include and engineering or construction management background, PMP certification, and LEAN Six Sigma training.
Electrical / PV Engineers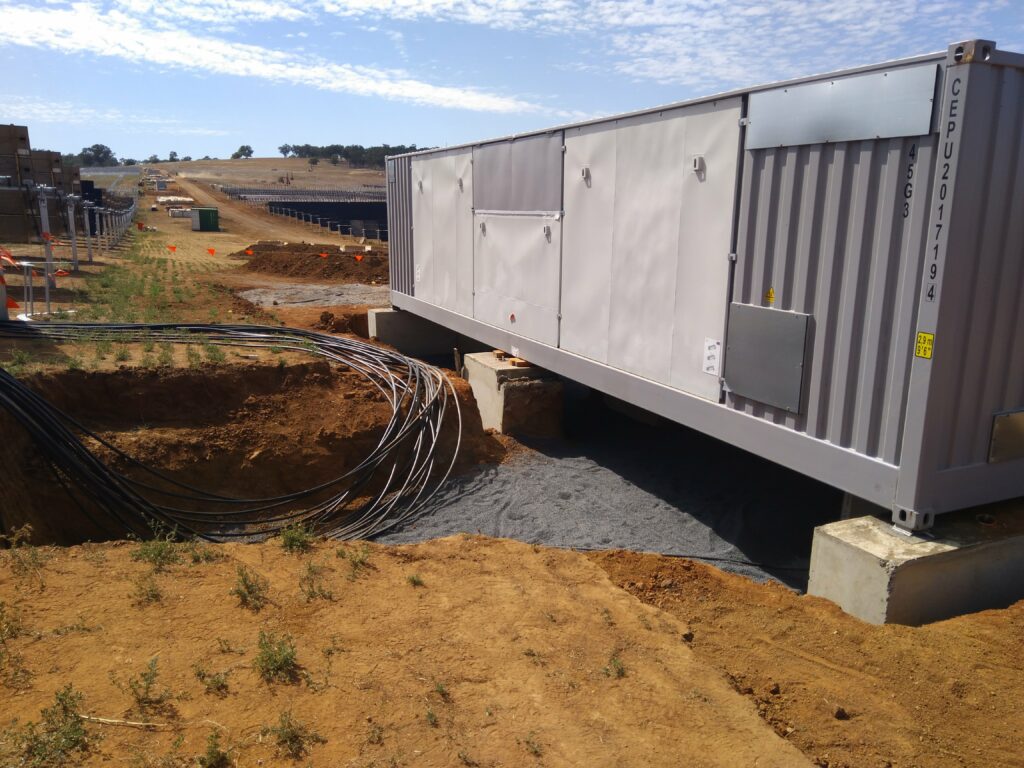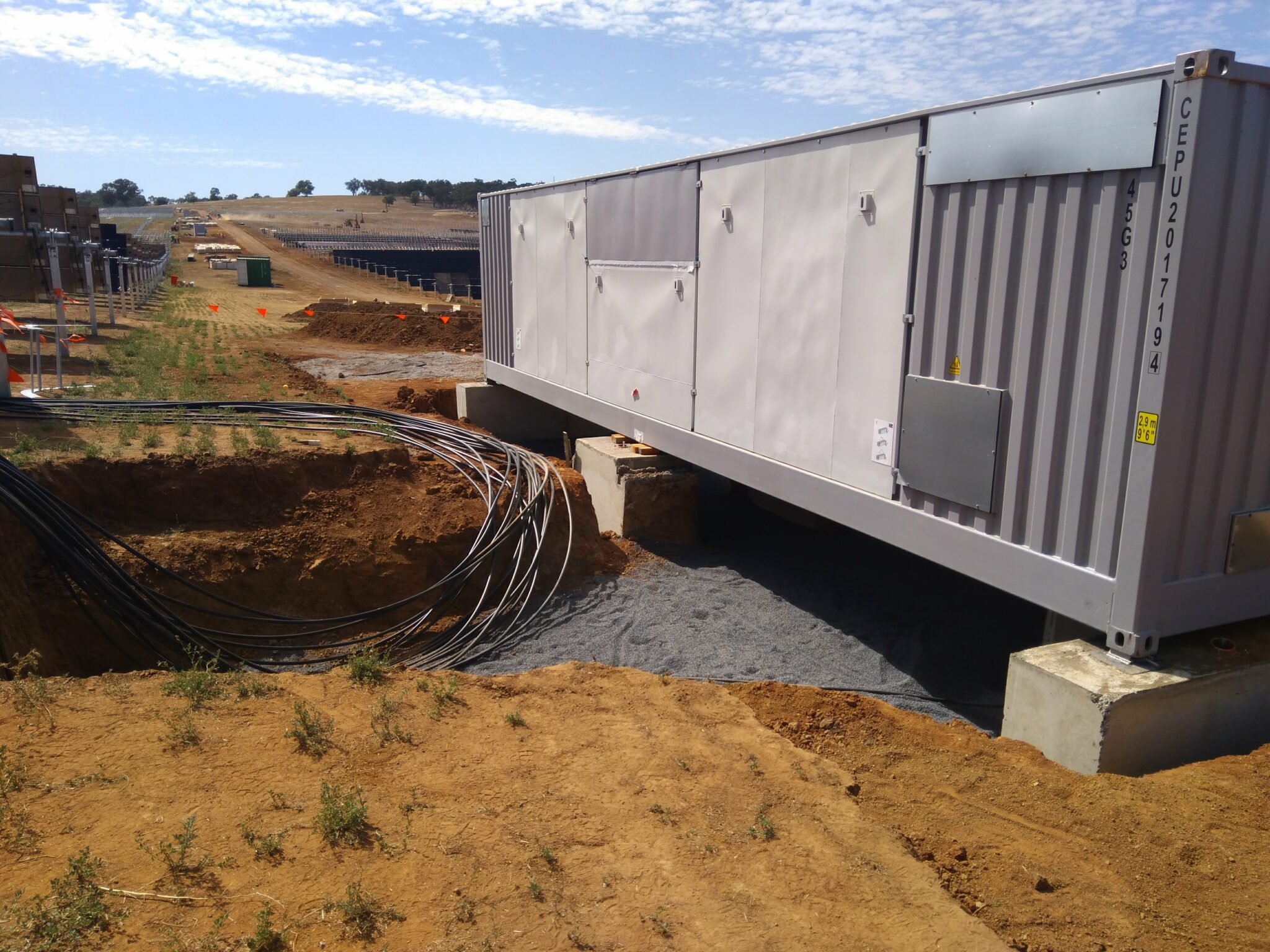 Electrical Engineers work on complex designs with high DC and AC voltage. First, PV strings are usually 1000- 1500V DC. Secondly, the power is converted to AC by a large inverter. Finally, voltages are stepped up by a transformer before injecting into the grid.
Electrical engineers will also decide the routing & losses of cables underground and in cable trays.
PV Engineers
pvPV Engineers, sometimes under the title of Application Engineers, will design preliminary or detailed designs for a project. In addition, they will simulate the expected energy generation of a solar farm using PVsyst software. This requires hundreds of data inputs, and rigorous analysis. Before a solar farm is built, the project must have confidence in it's expected generation. If the energy output is over estimated, the project will not generate the returns it promised their investors.
Mechanical Engineers
Mechanical Engineers can design systems like solar trackers, mounting brackets and much more. They also can work in SCADA (Supervisory Control And Data Acquisition) for running power plants. In addition, most sites have weather stations that report data. Some mechanical engineers perform quality assurance for materials and installation. For example, the steel piles driven into the ground will have required thickness of galvanized coating to prevent corrosion. A mechanical engineer can confirm this, and ensure the piles are driven with the correct spacing and tilt.
Civil Engineers
Civil Engineers play a critical role in utility scale solar design and construction. Jobs for civil engineers can include soil and geotechnical analysis early in a project. Soil analysis will determine the size and depth of pilings to be drive. Later, civil engineers will design foundations for inverters, cable trenching and water management. In addition, civil engineers may map the terrain in 3D and decide on any landscaping is required to level the site. Many sites will require roads to be build to handle heavy trucks as well.
---
Solar Farm Construction Jobs in Australia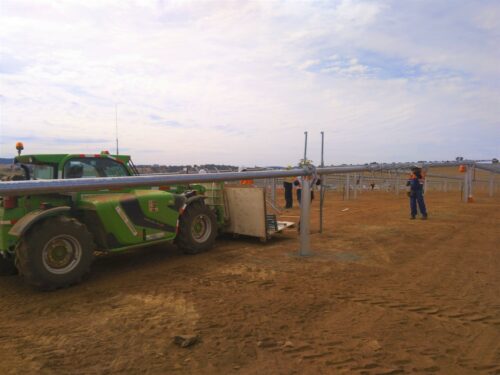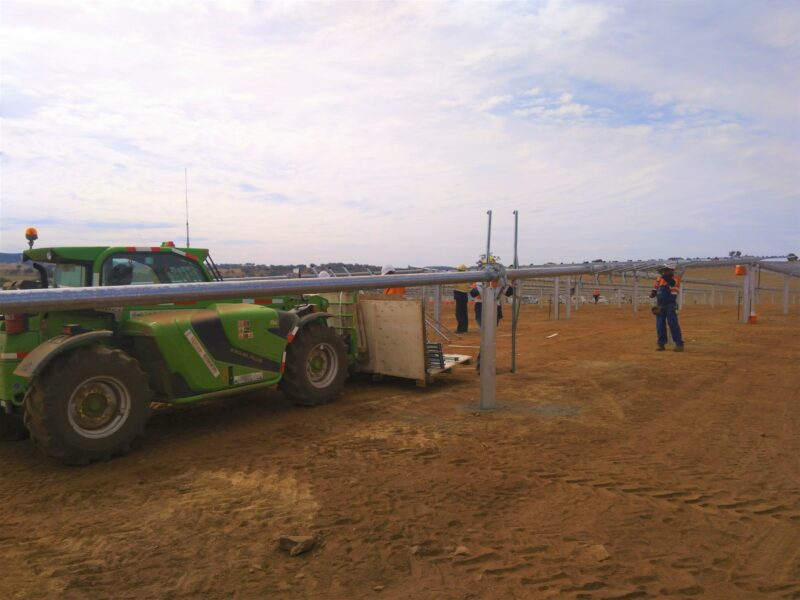 The construction phase offers the most jobs for utility scale solar work. Construction of solar farms may take several months to several years. However, these jobs are location and time dependent.
Workers should prepare for a longer commute or potentially moving to a remote location. Work often pays very well because of the long hours and harsh conditions.
Solar construction and labor jobs usually pay hourly or by the day. Often a temporary labor company provides workers. These jobs aren't generally posted individually online, so it's best to contact a labour hire company directly. In addition, the construction company may list their sub-contractors which you can contact.
Notable Labour Hire Companies for solar farms include:
Some of the largest companies building utility scale solar farms in Australia are:
Entry- Mid Level Solar Construction Jobs in Australia
Solar Panel Installation: Easy to learn, physical fitness definitely required. There will be lots of lifting, squatting and bending. In addition, you should have fundamental solar training to stand out from the crowd.
Single Axis Tracker and Fixed Racking Assembly: Knowledge of tools like torque wrenches, fasteners and power tools are key.
Waste Collection – There is a ton of shipping & logistics waste that must be gathered and disposed of properly.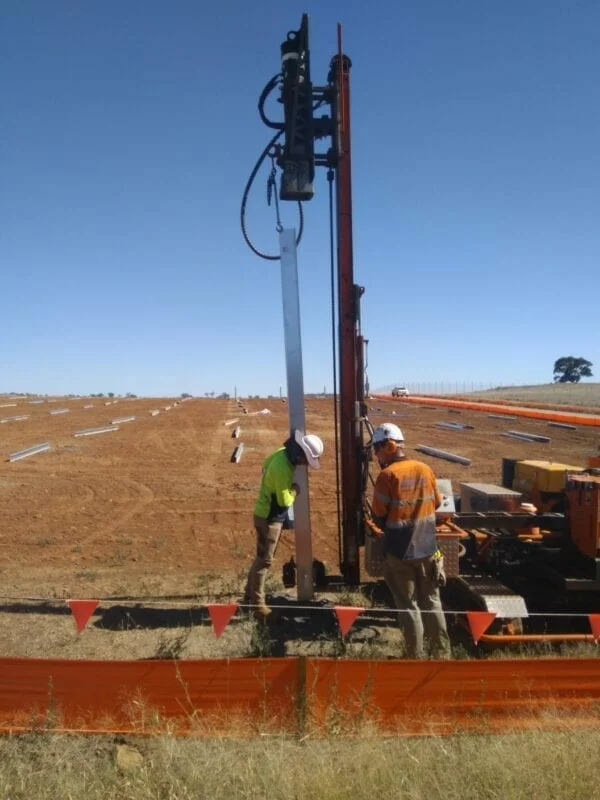 Machine Operator Jobs
Telehandler & Forklift Operators: Move materials from laydown area to the field for construction.
Civil Works & Grading Machines: Done early in a project to make a hilly site more "flat".
Piling Operators – These are the "tank drivers" in the fight against climate change. Pile driving requires endurance, precision and the willingness to wear heavy duty ear protection all day long. Thus, pile driving can also be dangerous, as there is tremendous force and speed generated from the power heads.
Water Tanker Drivers: Many sites will have a dust control plan, which includes keeping the dirt roads from drying out. Dust from construction can choke up the nearby farms and town in some areas.
Fencing Installation- usually done by a sub contractor that only does fencing.
Mid- Level Solar Construction Jobs
Work Leaders & Team Supervisors
Quality Assurance: Learn on the job with prior solar farm experience. Ensure the mechanical and electrical components are built correctly.
Logistics: Manage thousands of trucks, shipping containers and materials for the solar farm.
Utility Scale Solar Management
Construction Manager: This is the head of the operation. He or she will oversee the big picture, and takes on the risk of meeting deadlines and budgets.
Safety Management: With hundreds of workers in the heat, around moving machinery, safety is a huge concern. Sites have a full time safety manager on staff. The safety manager inducts new employees and conducts safety talks and training, for example. In addition, they will deal with any incidents if they occur.
Other areas such as finance, administration; even those with a non-solar related degree can find a home in the utility scale solar industry.
---
Industry Associations for Solar Jobs in Australia
Sign up with these communities to find out the latest in the industry.
Top Facebook Groups for solar jobs in Australia
Top Australian Solar Industry Job Board Websites
Aside from the normal job websites like Seek and Linkedin, here are a few others to check:
Top Solar & Renewable Energy Recruiters
Recruiters do the job hunting for you, and charge a finders fee to your future employer. Thus, managers are often too busy to find good workers, and will hire a recruiter. Here are a few solar energy recruiters to check out.