Introduction
The National Electricity Rules (NER), laid out by the Australian Energy Market Commission (AEMC), govern the operation of the National Electricity Market (NEM). These rules exist so that generators and consumers are aware of their roles and responsibilities as market participants and function in accordance with the pre-defined regulations. The NER is comprised of 11 chapters in all with multiple sub-parts and divisions which describe guidelines and information ranging from becoming a market participant to network pricing and metering.
Prior to 2014, renewable energy did not have a major impact on the Australian network outside of a small number of systems (eg. rooftop solar systems installed primarily to reduce electricity demand of the premises). At the time, all connection applications for embedded systems were assessed by AEMO under Chapter 5 of the NER which explains guidelines for Network Connection Access, Planning and Expansion. In 2014 it was recognised by the Clean Energy Council (CEC) that the industry had grown significantly; system sizes had increased and developers were struggling to comply with the requirements of Chapter 5. This had led to serious delays for what should have been simple connections. To solve the issue, AEMC (at the request of the CEC) published an amendment to Chapter 5 of the NER, called Chapter 5A: Electricity connection for retail customers, to streamline the connection of renewable energy generators.
This article outlines the scopes of Chapter 5A, defines the systems it applies to, and provides a brief introduction to what you can expect should you start your connection application.
GSES is able to assist you in connecting your systems under Chapter 5A and ensuring they are fully compliant with the Chapter 5A Network Access Standards.
5 and 5A – What's in a letter?
Systems connected under Chapter 5 are Registered Participants in the NEM. A registered participant is a generator or load owner who wishes to buy/sell energy in the NEM. There are various categories under which one can become a registered participant with the AEMO. As per AEMO's present rules, generators with a capacity of 5MW and above* have to be registered. Chapter 5A allows connections of Non-Registered Participants.
The primary difference between Chapter 5 and Chapter 5A boils down to system size.
Systems under 30 kW are deemed micro-embedded generators and are assessed under their own model standing offers provided by the DNSP. The terms and conditions of these offers vary depending on the DNSP.
Systems between 30 kW and 5 MW are eligible to be assessed under Chapter 5A. However, the applicant may still elect to apply under Chapter 5 if they wish. The specific requirements that are to be complied with depends on the system size and point of connection in the DNSP network. These requirements are to be confirmed with the DNSP during initial application enquiry.
Systems over 5 MW are assessed under Chapter 5.
*Note: Some systems are eligible for exemptions and may be assessed under a different chapter than usual. We will touch on this briefly but not delve into the matter too much in this article.
Application Timelines
The chapter under which you make your connection application can have a major impact on the time taken for approval. In fact, long delays for small systems being approved under Chapter 5 was one of the primary drivers for the development of Chapter 5A.
Chapter 5 applications involve the following stages:
Preliminary Enquiry
Detailed Enquiry
Connection Application
Final Connection Agreement
Chapter 5A applications skip the Detailed Enquiry stage. As per AEMC timelines, an applicant may expect to receive the connection agreement within 100 business days of submitting the initial connection enquiry under Chapter 5A. What it does not incorporate is the time required by the applicant to undertake a significant amount of work to prepare the connection application which involves detailed network modeling and studies completed in AEMO approved power system analysis software, design, and time allowed for distributors to respond to each stage of this process. A more realistic, but still approximate timeline is explained below: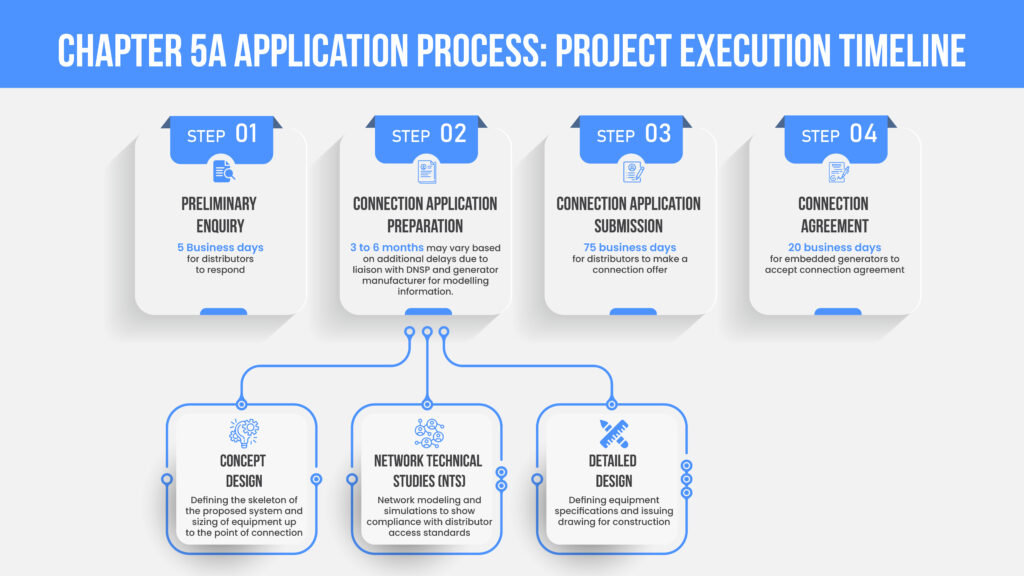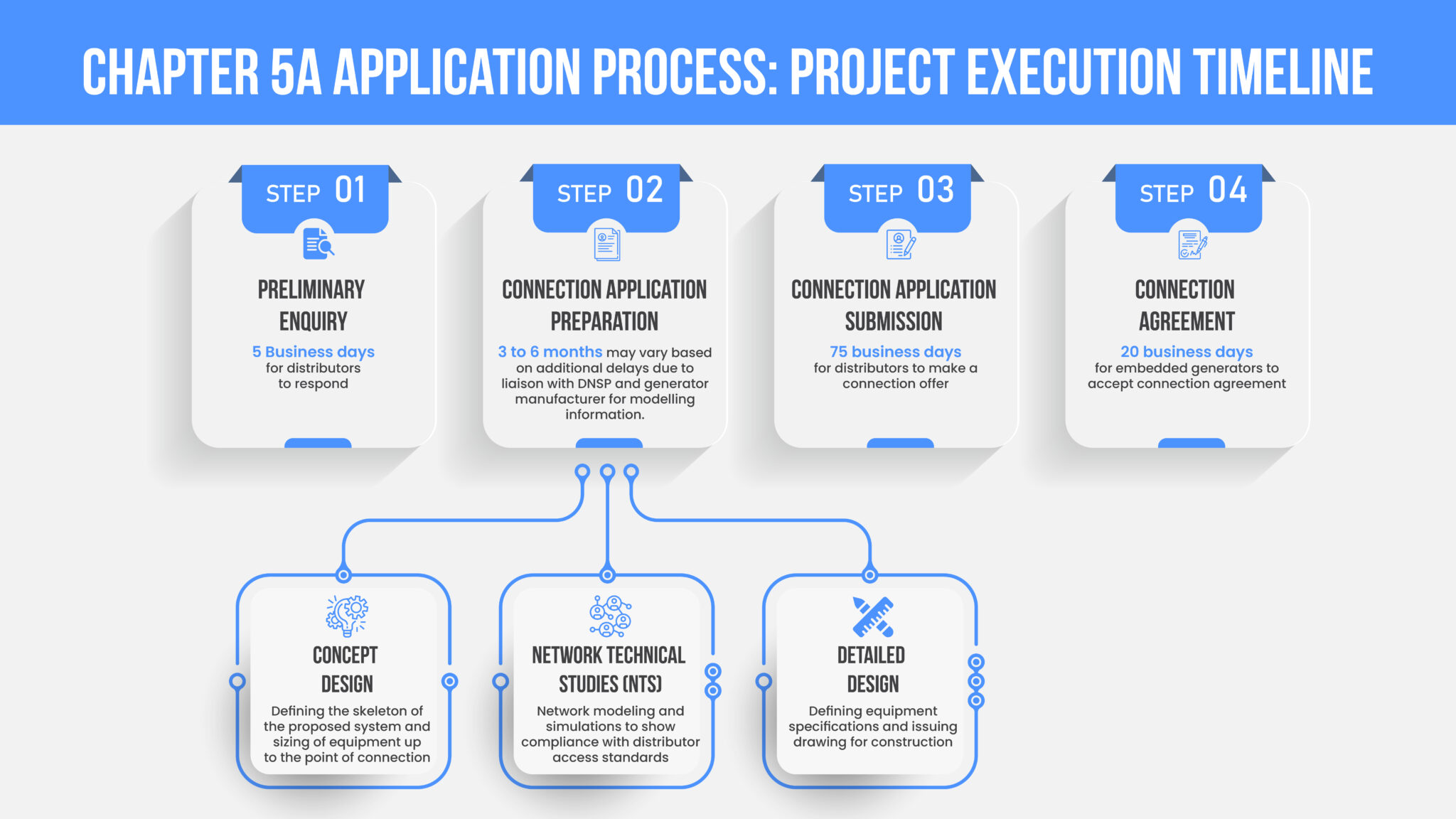 Systems under 5 MW may still elect to make an application under Chapter 5 for a variety of reasons, one example being for registration to participate in the Frequency Control Ancillary Service (FCAS) Markets.
Choosing between Chapter 5 and 5A
For some systems, there is no option to apply using Chapter 5A. For example, a 120MW solar farm must use chapter 5 as a scheduled generator (generators with an aggregate capacity of 30MW and above). If you are working on systems of this scale, you likely already know this.
Systems sitting around the 5 MW mark have a little more flexibility. There are scenarios where a system below the threshold might elect to be assessed under Chapter 5, and systems over 5 MW (but not too much over!) might request an exemption and apply under Chapter 5A.
Why go up to Chapter 5?
If a Battery Energy Storage System (BESS) has plans to participate in the FCAS market, it must be a registered participant. So, a 1.5 MW BESS will apply under Chapter 5 if it wants to participate in the FCAS market but can apply under Chapter 5A if it only wants to be involved in energy arbitrage.
Why go down to Chapter 5A?
Securing a connection agreement under Chapter 5A is a lot smoother than Chapter 5.. But there are only select scenarios under which a large system can be assessed. AEMO may allow exemptions for systems below 30 MW that export less than 20 GWh of energy in a 12-month period. There may also be other requirements and don't forget that AEMO has the final say.
Regardless of the process you elect to follow, your connection application and subsequent network modeling will have to demonstrate compliance with applicable Access Standards. Reach out to GSES for assistance in understanding this process further and to work out how to get your asset approved and running.
Network Access Standards and Generator Performance Standards
The longest process in connection applications under both chapters 5 and 5A is the steady-state and dynamic network modelling and analysis, usually undertaken in PSS®E, PSS®SINCAL, or PSCAD™ as specified by the DNSP. AEMO's power system modelling guidelines require the network models to be submitted in PSCAD™ and PSS®E file formats. GSES are experts in network modelling and analysis in these software packages and are ready to help you out.
Each DNSP has its own access standards that must be complied with to obtain connection approval. These access standards are defined for three levels of compliance: Automatic, Negotiated, and Minimum. If the embedded generator is unable to comply with the automatic access standard for some of the technical requirements, a negotiated performance standard can be proposed by the applicant. However, it should still comply with the requirements of the minimum access standards. Broadly speaking, the different studies include – steady-state analysis, power quality analysis, dynamic analysis, and protection and coordination studies.
We've listed some below to give you an idea of what to expect.
Reactive Power Capability
The embedded generator must be capable of providing reactive power support to the network during the complete range of its active power output capability and when the voltage at the point of connection is within ±10% of its nominal voltage level.
Quality of Electricity
The embedded generator should not produce voltage fluctuation, harmonic voltage distortion and voltage unbalance outside of allowed levels.
Along with maintaining power quality; the generator is also expected to sustain operation through any power quality disturbances it receives through the grid.
Generating system response to frequency and voltage disturbance
The generator must be capable of withstanding frequency and voltage disturbances to a threshold set by the DNSP.
Generating system response to disturbances following contingency events
The utility grid is subject to a list of contingency events such as system faults, disconnection or failure of a transformer or transmission lines. The generator is expected to exhibit stable operation and not disconnect from the grid for the specified time interval should a contingency event occur.
Protection System
The protection system must satisfy multiple criteria as specified by the DNSP which may include:
Protection from power system disturbance
Impact of the protection scheme on power system security
Protection to trip plant for unstable operation
Frequency, voltage, active and reactive power control
The generating system should be capable of operating in frequency response mode, voltage control, reactive power control or power factor control modes and be able to accept setpoints provided by the system operator and smoothly transition between these operating states based on network conditions.
Fault Current
The proposed protection devices should be capable of withstanding, breaking the maximum possible fault current contribution from the utility network without damage or restrike.
So how do I get connected?
In summary, connection applications of medium to large scale embedded generators can be a tedious task, and selecting the most appropriate regulation to apply under depends on how you want your generator to participate in electricity markets and what this does to your return on investment.
GSES can assist you at every stage of the application process starting from preliminary enquiry to detailed design. Please get in touch with us for further details and queries.