Training Facility
GSES' Sydney Training Facility offers students the ability to gain experience in installing photovoltaic systems in a controlled environment using the latest products in the renewable energy industry. Situated in Botany NSW, it is conveniently located 10 minutes from Sydney's domestic and international airports and easily accessible by all modes of transport.
The practical training facility includes a full-size indoor roof on which course participants will install and commission a 1kW PV array to industry best practice guidelines despite weather at the time.
Course participants also have the opportunity to install and commission an array on a tilt frame and experience installing a system on a tile roof.
The practical training room includes:
a full-size indoor roof with a 1kW array
a movable tilt-up solar array that is commissionable outdoors
tile roof rig for installation practice
all installation and safety equipment necessary to install all systems simultaneously
amenities and kitchenette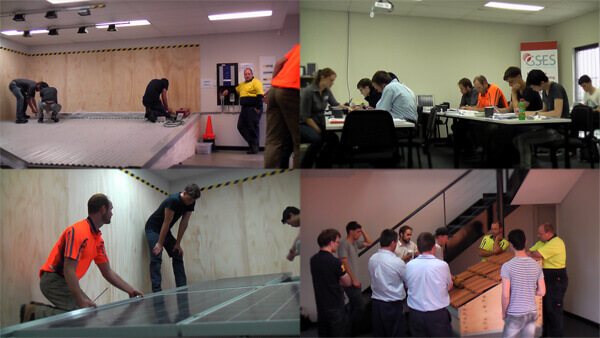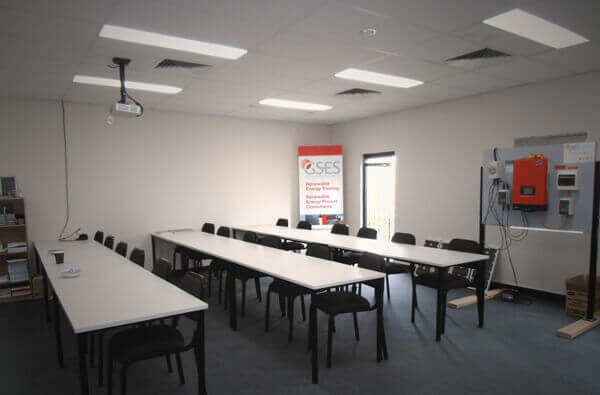 Training and Meeting Room Hire
Are you looking for an affordable training or meeting venue for solar or electrical training that offers something extra?
Professionally fitted with modern, comfortable facilities, the training centre is conveniently located just 10 minutes from Sydney's domestic and international airports.
GSES' facilities are perfect for sit down meetings and conferences, while our practical training room offers the opportunity for industry run courses with significant practical elements. Everything you need to run a successful and profitable presentation, course, function, meeting or service, utilising state of the art training facilities and resources.